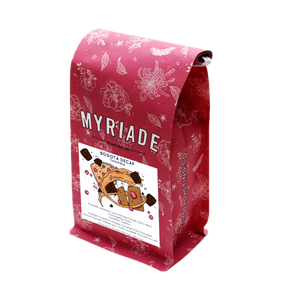 Myriade Roasting Co.
Bogota Decaf
Regular price
$23.00
$0.00
Unit price
per
Huila, Colombia
Graham Cookie, Fruitcake, Caramel, Milk Chocolate

Bogota Decaf impresses because it is just as good as our caffeinated options. To us, decaf is not "just an after thought" because we've found amazing decafs that stand up to what we consider to be great coffee, period.
Acevedo, the Colombian municipality Bogota Decaf comes from, is known for microclimates that are ideal for coffee cultivation, with its wide diversity in humidity, temperature, and rainfall. These unique and diverse microclimates match the diversity and exciting cup profiles we've found in the various coffees we've purchased from this amazing microregion. In the cup you'll find all manner of baked sweets goodness.
Andy's cupping score: 86.5
Melanie's cupping score: 86.
Region: Acevedo

Process: Washed / Lave

Altitude (masl): 1450-1750

Variety: tabi, castillo, caturra
---