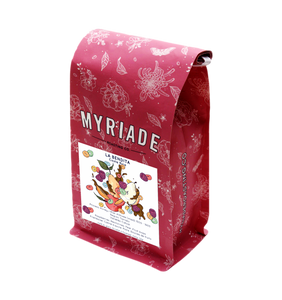 Myriade Roasting Co.
La Bendita
Regular price
$22.25
$0.00
Unit price
per
Costa Rica

Mango, Cherry, Peaches and Cream

This coffee comes to us from Selva Coffee, a Costa Rican exporter run by Perry and Marianela Czopp. Marianela's family has several generations of coffee professionals in their history and Marianela and Melanie have known each other for several years from Marianela couch surfing at Melanie's place in Oslo when she still lived there. At that time, Marianela had just graduated university and was trying to figure out how to make a career for herself in the coffee industry. Now here they are, both on the other side of the Atlantic, Marianela now introducing Melanie to this wonderful coffee and producer, Tito Monge. Tito's father, Elandio Monge, bought the family's land in the late 70's and worked in coffee his entire life. Tito's dad is known as "Nincho", hence the name of their micro mill. In 2008, Tito acquired part of this farm and named it "Laderas del Aguacate" and in 2017, Tito's sisters acquired the other part, "La Bendita" where this lot The Monge Vargas family, like so many others, used to drop off their coffee cherries to cooperatives.
In the late 90s Tito took note of a new style of production by a neighbouring farm, Los Vargas, which was processing their own crop. As someone who is passionate about nature, farming, and coffee, Tito came to realize that processing your own harvest can make a huge impact on your production and quality.

These days not only does Tito process his and his family's coffees; D'Nincho is also a reputable establishment for neighbours who are also interested in producing a higher level of quality with more customized quality controls.

Aromatics: Clean medium-pointed acidity, lots of red fruit, well balanced and good structure in the cup.

    Produced by: Tito Monge

    Farm: La Benedita

    Wet Mill: D'Nincho

    Harvest Season: October - March

    Municipality: San Pablo de Leon Cortez

    Altitude (masl): 1500-1600

    Varieties: Catuaí

    Process: Natural

    Farm Size (ha): 14.5
---